Project-based learning has long been a hallmark of technical communication academic programs. However, with advances in technology, globalization, and geographically dispersed workforces, students must also learn how to conduct projects as members of virtual teams.
This session will explore the implementation of an integrated multimedia project assignment for online graduate students and on-campus undergraduate students. Advantages and project outcomes will be discussed as they relate to students, organizations, and educators. Students will share their experiences, reactions, and perceived benefits from the recent project.
Date: 14 Sept 2020
Time: 9:00 AM - 9:30 AM Pacific/US
Connection error when you try to register?
This webinar is being held on Zoom. If you are on a government computer or have an IT department that is blocking Zoom, you will need to register from your personal computer or mobile device.
About the Visiting Dojo Master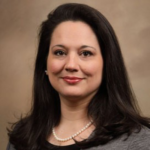 Jennifer E. Goode, Ph.D., is an instructor in the Department of Technical Communication at Mercer University in Macon, GA. Prior to joining the faculty in the Technical Communication Department, she served as an online learning consultant for Mercer's College of Nursing and College of Health Professions. Dr. Goode has served in both government and higher education organizations in the areas of computer-based training, document production and management, and online course management. Dr. Goode's teaching and research interests include instructional design, online learning design and delivery, evaluation in organizations, and STEM/STEAM initiatives in public schools. She has previously taught at the University of Louisville and the University of Illinois at Urbana-Champaign. Dr. Goode earned her Ph.D. and M.Ed. in Human Resource Education from the University of Illinois at Urbana-Champaign. She earned her B.S. in Technical Communication from Mercer University.
Watch the Video
It will be posted here after the session!
View the slides
They will be posted here after the session!
Key Concepts:
collaboration, globalization, make your business case, soft-skills
Filed under:
About the TC Dojo
At the TC Dojo, you pick the topics and we find the experts.
You can't ask questions of a video, so be sure to join the TC Dojo and never miss attending live: http://join.tcdojo.org
Vote on future TC Dojo webinar topics here: http://survey.tcdojo.org